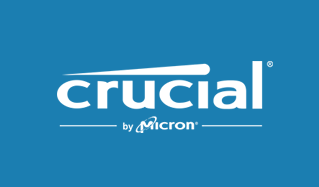 Crucial®
The memory and storage experts™
Crucial Products - The Memory and Storage Experts
Crucial® memory and storage products are compatible with more than 175,000 computer systems. Expertise. Compatibility. Reliability. Commitment. That's Crucial.
Maximize Speed and Performance
Upgrading memory is one of the fastest, easiest, and most affordable improvements you can make to your computer — and you'll notice the difference in performance right away. All Crucial memory modules are 100% component and module tested. Backed by one of the industry's most in-depth quality test programs, and with more than 40 years of manufacturing expertise, and a limited lifetime warranty, Crucial memory is built to last.
Transform the Pace of Productivity
Improve system performance with durable, energy-efficient solid state drives (SSDs) for client or home applications. Unlike hard drives, SSDs access data almost instantly and can be significantly faster and more reliable than traditional HDDs. Built with NAND flash memory and backed by excellent customer support, Crucial® SSDs come in multiple form factors, price points, and capacities to offer the most flexibility for your upgrade needs.