About Micro Center
Here for Your Essential Communication and Information Technology Needs
Over 22 million IT professionals, small businesses, local governments, students, engineers, programmers, makers, tech enthusiasts, gamers, computer product and electronic device customers have relied on Micro Center for their communication and information technology support needs since 1979. Micro Center provides the essential services and technology to support the health, safety, and welfare of our communities. Now as 1 in 5 Americans have been ordered to stay at home, Micro Center can provide you with the essential technology support products and services to work, learn, and receive telemedicine from the safety of your home. We are deeply passionate about providing for the health and safety of the public during this time in our country.
Micro Center is among the nation's leading information technology, communications, and electronic device suppliers, operating twenty-five large stores in major marketsnationwide. Founded in 1979 in Columbus, Ohio, Micro Center has grown steadily and profitably. Our stores are designed to supply the needs of a wide variety of consumers – from small businesses to local schools - with well-trained associates who offerinformation technology solutions.
Uniquely focused on information technology products, Micro Center offers more computers, electronics, networking and communication devices (more than 30,000 items in stock) than any other company. Micro Center is deeply passionate about providing information technology products and technology support services. We have offered in-store pickup of online orders since 2010. Consumers can visit Micro Center's 25 stores from coast-to-coast or microcenter.com for thousands of computer-related items, electronics and other information technology products.
Information Technology Solutions for Critical Infrastructures
At Micro Center, we are dedicated to providing you with the entire information technology solution needed. As business and schools shift to remote work from home and virtual learning, we are here to supply your essential needs of computers, networking, webcams, and all work from home products. Micro Center is here to supply your telemedicine needs so you can consult with your doctor from your home. As the country is seeing a historic shift to remote digital access, we are here to support you as you effectively work, learn, and receive telemedicine from home.
Customer Satisfaction
At Micro Center, we always aim to provide you with a great shopping experience. Micro Center offers selection, service and sales expertise competitive with other leading service-oriented companies. Micro Center's store designs are based on exhaustive studies of customer shopping behavior, thousands of customer surveys and extensive testing.
At each of our stores, you can be assured of well-trained sales associates who can answer your questions and guide you to the best choices to fulfill your essential technology support needs. And Micro Center provides technical support in the way that's most convenient for you - in store, via email, or through online chat.
Knowledgeable Sales Associates
Micro Center has long been known for the computer and electronic device stores with the most experienced, knowledgeable and helpful sales associates, plus walk-in technical support services Micro Center hires computer and electronics enthusiasts with good people skills and provides continuous training to ensure that customers receive an outstanding consultive sales experience. Our sales associates are proficient at helping customers at all levels of computer and consumer electronics knowledge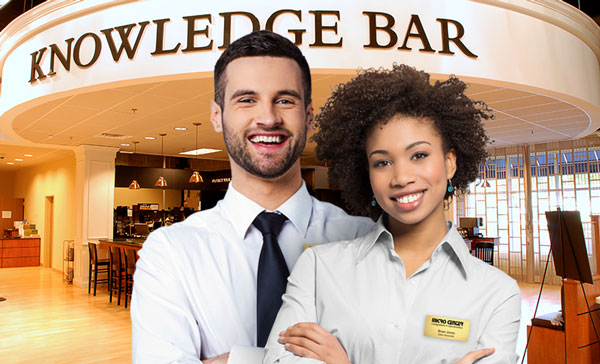 Micro Center's business model is built on providing you with expert advice. The Micro Center Knowledge Bar is where you can bring computers for technical support, quick upgrades and other personalized help sessions.
Pricing
Micro Center has offered the lowest prices on CPUs for years as a service to the large percentage of our customers who prefer to build their own PCs. Micro Center compares CPU prices daily to ensure we are offering you prices which beat online sources, plus we give you the convenience of being able to purchase what you want at your local Micro Center. Micro Center offers competitive prices on our vast selection of merchandise. Micro Center's In-store Pickup lets you order what you want and pick it up as soon as you receive a confirmation email.
Selection
A product assortment which is both deep and wide has been a mainstay of Micro Center since the company occupied its first large format store way back in 1982. With over 30,000 items in stock, Micro Center offers more information technology solutions and more square footage devoted to them than any other company. Micro Center continually researches our customers to ensure we are bringing to market the latest products they desire. In fact, Micro Center is the leading U.S. supplier for Arduino and Raspberry Pi. From novices to enthusiasts, Micro Center's vast inventory has you covered!
---
"Stopped in for the first time the other day. The staff was very helpful and the prices were great! My new favorite store"
- Tim R.
---
"Micro Center. Love you guys! An incredible selection at incredible prices. With some of the most knowledgeable and tech savvy staff I have ever seen"
- Tom J.
---
"Computer paradise. They had everything that I would need. I could easily spend thousands of dollars here."
- Krista R.